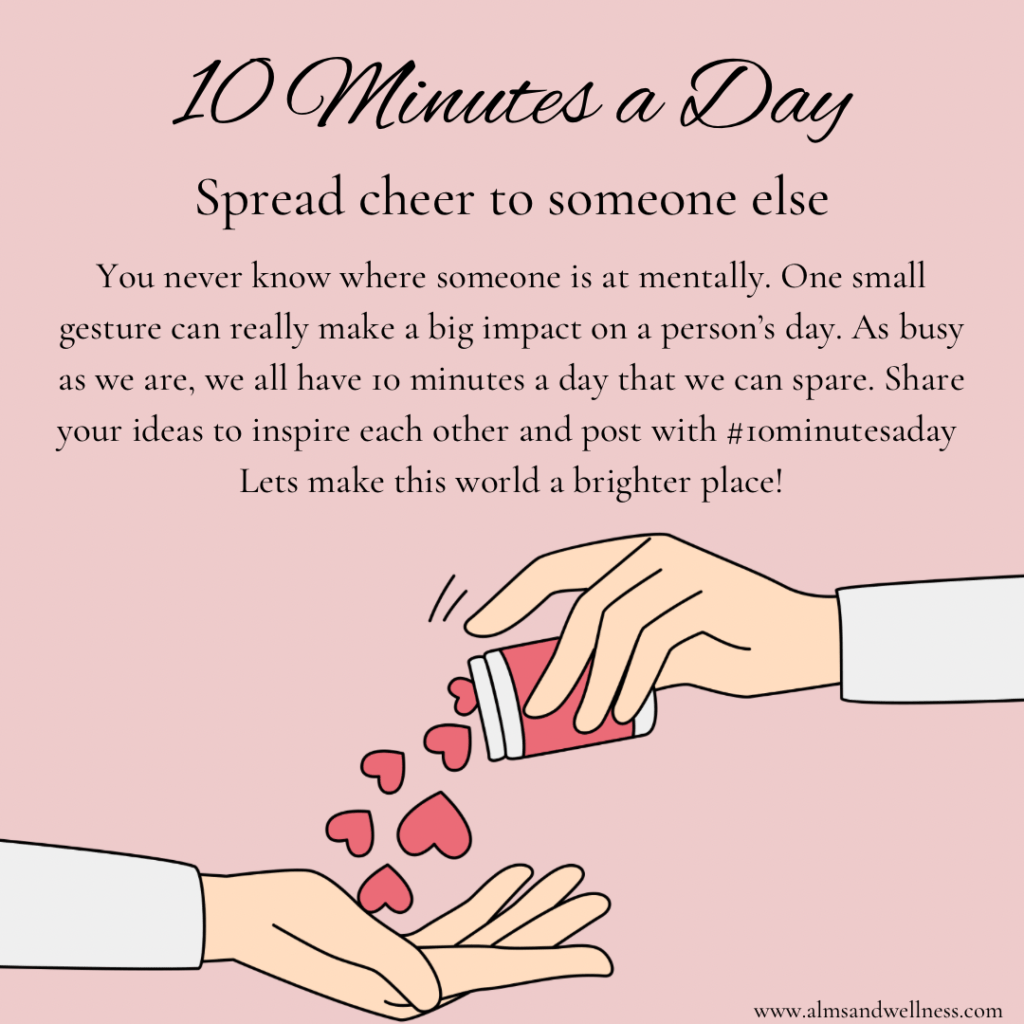 This year I really wanted to do something that would keep me accountable in regard to spreading happiness to others. I find myself saying how busy I am and it's true, I am busy. Last year I took on more than I could chew and became completely overwhelmed and although I tackled every task set in front of me there were many days that felt like a blur. This year I wanted to make sure that wasn't going to happen. I'm not only going to take more time for myself and my family, I wanted to make sure I do something every single day for someone else. Even if it seems silly and non-significant, you never know how something small will affect someone's day in a positive way.
That's when I came up with 10 Minutes a Day. The meaning behind it is to set aside 10 minutes a day to do something for someone else. Of course it doesn't have to be 10 minutes long, some things will only take seconds, like holding the door open for someone.
Here are some ideas that you can do:
1. Send thank you notes to people.
2. Pay for the coffee of the person behind you in line.
3. Return a cart to the station for an older person or a busy mother.
4. Put "I love you" notes in your kid's lunchbox.
5. Start the car in the morning to heat it up for your partner.
6. Write love notes in the foggy mirror while your partner showers.
7. Hold the door open for anyone.
8. Let someone cut ahead of you at the grocery store checkout.
9. Deliver dinner to a new mom in your area.
10. Tell someone they have a nice smile.
11. Surprise your spouse with lunch at work.
12. Tell someone they have a nice smile.
13. Compliment someone's clothing.
14. Snail mail a handwritten letter. (my personal favorite)
15. Have flowers delivered to someone for no reason at all.
16. Make a family member their favorite meal.
17. Send a text to tell someone you're thinking about them.
18. Leave a more-than-generous tip for your server.
19. Watch your friend's kids for a few hours.
20. Bring a "get well" basket to someone who is sick.
21. Bring a meal to the family of anyone in the hospital or on bed rest.
22. Buy a pedicure for someone who would never do that for themselves.
23. Bake cookies or bring fresh fruit to a neighbor.
24. Surprise your kid with their favorite dessert.
25. Leave beer on a friend's porch with a note — and then doorbell dash.
26. Buy a grocery gift card for someone you know is struggling that month.
27. Leave a note and a "thank you" on the receipt for your server.
28. Leave a message on a public mirror that says, "You're Beautiful!"
29. Leave a book somewhere for someone else to read. Add a note if you'd like, explaining what you got from the book and what you hope they do.
30. Share with someone something that surprised you about them or made you proud.
31. Tell someone how they inspired you.
32. Send someone an ecard
Some things may cost money, most things are absolutely FREE! The choice is up to you, get as creative as you can and share online with hashtag #10minutesaday so we can all inspire one another! This is a fun way to brighten someone's day, which will in turn brighten yours! Nothing feels better than making someone else smile!
Cheers to cheering others up!